Article
Eyebuydirect Brand Director, Jim Merk, sits down with Diffusion MD Kate Ryan to discuss DTC, influencers, and CSR ahead of Pride Month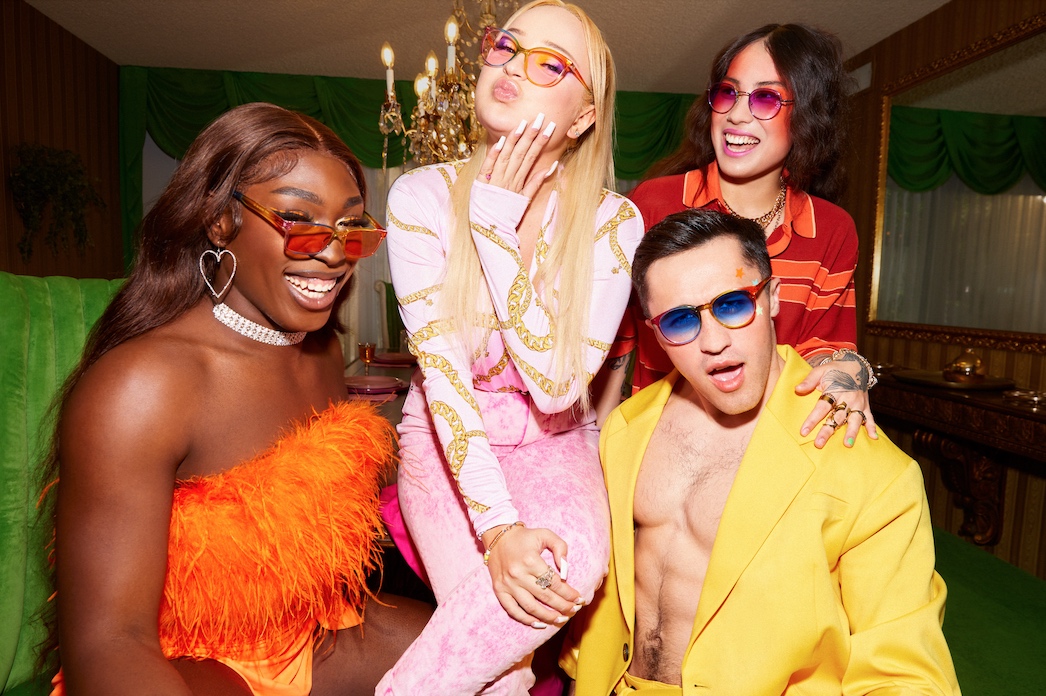 Faced with more competition than ever before and rapidly changing consumer behaviors, DTC brands have been handed new challenges and an increased pressure to expand, innovate, and deliver faster than they could have ever planned since the eCommerce market first hit its stride in 2020 with the start of the pandemic.
Diffusion's annual DTC Industry Index explores the state of consumer purchase intent as it relates to traditional retail and DTC brands, and in its fourth iteration, found that 65% of Americans planned to make at least one purchase from a DTC brand in 2021, a projection that had dropped (for the first time) from what consumers were expecting they'd purchase in 2020 (79%). The report also explored why consumers were choosing DTC over traditional retail (convenience, customer service and a trendy aesthetic were top factors) as well as the impact of influencer marketing, which over half of consumers said wasn't as impactful as some brands might assume (62% noted they aren't swayed one way or another by influencer marketing).
Diffusion's Managing Director, Kate Ryan, sat down with Eyebuydirect's Brand Manager, Jim Merk, to discuss these findings and more from Diffusion's 2022 DTC Direct-to-Consumer Purchase Intent Index.
Kate Ryan: Jim, thank you so much for sitting down with me.
Jim Merk: I'm thrilled to do it.
KR: This was the first year Diffusion's Direct to Consumer Purchase Intent Index report revealed a slight decrease in DTC spending by Americans. What have you been seeing at Eyebuydirect?
JM: We've been in a pandemic situation for a couple of years, so we're seeing people just wanting to be people again. They want to go out, do social activities, and shopping has traditionally always been a social activity, so there's been an increase in brick-and-mortar shopping lately.
However, I'm still bullish on direct-to-consumer and the value it provides and think it will continue to prove itself in the future.
KR: I agree. But do you think that puts pressure on DTC brands to consider a more omni-channel approach?
JM: Well, it definitely puts pressure on innovation. Direct-to-consumer was an innovation that saved customers money and now that retailers have caught up in terms of equity and price, it forces DTC brands to think of more ways to connect with the consumer.
For example, brands are talking about opening stores in the Metaverse, experimenting with NFTs, pop-up shops and so forth. There is plenty of room to innovate in the future and consumers will be the winners.
KR: Absolutely. One of the things that I saw in the report too, was what makes a brand 'DTC'? I think there's still some confusion from a consumer perspective. Our report found that Americans typically expect DTC brands to be easier to shop online, they expect them to have a cool aesthetic, and sell a higher-quality good than a traditional retailer. What do you think really separates Eyebuydirect from your traditional retail competition?
JM: To me, direct-to-consumer is that we're cutting out the middleman and saving you money. That makes us sensitive to trends, forces us to be where the buyer is, and be on top of what's happening and what's new. This allows us to provide a huge assortment for our customers to choose from. So, that's what's special about Eyebuydirect. When compared to the doctor's office with just 200 frames to choose from, there's no way that they can provide the same level of attention and options for the consumer that we offer.
The second thing is the amazing price. Now, even if you buy our most expensive glasses, you're still going save hundreds of dollars. We really like when someone puts on a pair of glasses and can see better and someone says, "Man, that looks good." You get a double whammy of self-confidence, and that's why glasses are a superpower!
KR: I am personally super bullish on DTC, but what are some of those challenges that you think really lie ahead for the industry?
JM: The challenges are being personal with the customer. When you go into a retail store, you get to experience a first impression and you're greeted by somebody that gives you a specific impression of the brand. The challenge for DTC is to get that personal impression of the brand across, online.
Making it easy to find what you are looking for and find help when you need it is where DTC can lack. We know that picking out a pair of glasses isn't the easiest thing, and we offer a lot of neat ways like virtual try-ons to make that easier. But you can also have customer service give you a hand – and we have people who will help you figure those things out.
KR: I've always felt like customer service is something that separates DTC brands from the pack and one thing that they've always done really well. Eyebuydirect had an explosion of growth during the pandemic. How did you handle that explosion of growth and did customer service keep up?
JM: We definitely had to focus a lot on ramping up customer service to handle the growth and the explosion that everyone experienced during that time. It was the perfect storm, if you will, to really help people and really get the buzz going for us and other DTCs. But customer service, we ramped them up and we doubled down.
When I was first with Eyebuydirect, we still had customer service that was automated and so we changed over to live people and that's really the only way to do it. People just get people. They can get right to the heart of what a consumer is after, so we think that has really made a big difference in customer satisfaction.
KR: Our report also found that consumers are more skeptical of influencers than they were a few years ago. How does Eyebuydirect approach influencer and are you all in on influencer or more hesitant?
JM: I'm extremely proud of our influencer marketing. We're not just partnering with whoever and throwing money anywhere. We like to find those influencers who really care about their communities and the connection that they have with their communities is very strong, who also align with what we are doing. When we can find that synergy, we find that influencers work very well.
It's an important distinction in the way that we work with influencers and the expectation that we have from the results of what they do. What we find is that our expectations are super high because we want them to continue to do what they do for their community and in the way that they do it. We want to give the influencer that freedom, and if you pick the right person, then the results really speak for themselves, like our recent partnership with Kim Petras.
KR: Alright, final question: You have a crystal ball, and you have to predict three things you think are going to happen in the DTC industry this year.
JM: THREE?
KR: Three.
JM: All right, I'll double down on the innovation and on Web3. This is an exciting space right now and it affords people a little bit more fun, like brands experimenting with NFTs.
I expect more events to be taking place and coming back this year, especially as DTC tries to continue and build that personal connection between the customer and the brand, so I see that growing.
And I think payment options would be the last part of it. I think we are going to see more things like what we did with Afterpay (Eyebuydirect teams with Afterpay for buy now pay later move) and different ways to get people what they want.
KR: I have always respected what you guys have done with societal movements and wonder if you think that is going to have an impact on brands like it did last year and the year prior? Two years ago, our survey said that consumers want to buy from brands that align with their beliefs, and that they want to see companies support movements like Black Lives Matter or Pride – where does that factor into how you approach that for Eyebuydirect?
JM: It's still so important and what we do on the CSR side is hugely important to us. It's not just for the customers, but it's for the employees as well. I'm super proud to work at a place that has an annual Pride event and I think our rainbow glasses are super cool. There is a butcher at the Vons that I go to, and one day I noticed that she was wearing them, and I said, "Do you know where you got those?" and she was said "Yeah, I got them at Eyebuydirect" and now we always give each other a head nod, so seeing people enjoy our product like that is super cool.
I also like that we do things like the Buy One, Give One program because glasses are a superpower and being able to share a superpower around the world is a great thing. The way that our company is so committed to it, really makes me proud to work at Eyebuydirect and to work alongside people who are working to improve people's healthcare and share in the riches that we all have.